For Your Peace of Mind – Understanding Share Deposit Insurance
March 24, 2020 by Chevron Federal Credit Union
During these trying times, we understand that our members have a lot of questions regarding the safety of their deposits. It is important to us to make sure you can rest easier by understanding how your deposits are protected.

Accounts at credit unions are federally insured by the National Credit Union Share Insurance Fund (NCUSIF), which is an arm of the National Credit Union Administration (NCUA).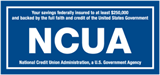 All credit unions insured by the NCUSIF must display the official insurance sign in their offices.
So what does this mean for you, our member? Credit unions that are federally insured by the NCUA offer a safe place for you to save your money, with deposits insured up to $250,000 per individual depositor.





Please visit Chevron Federal Credit Union's Share Insurance page for more information.
For more information about the National Credit Union Administration, please visit NCUA.gov.

Ready to become a member?
We're ready to work hard for you and your money.
From everyday finance to life's big money moments, it's better when you belong.